Archive
Fun to roll back the years and create a mood board of the 'young Caryn.' At Feltham Comprehensive my year 9 school report (that's 3rd year senior school in old money) said...
" being the most fashionable person in the school will not get Caryn a good job,"
Eat your words people.
After graduating from Kingston as a graphic designer, where I mis-spent most of my time in the fashion department with my mates John Richmond and Helen Storey (there was no fashion media course in those days), I  decided upon a 'post grad,' at St Martin's School of Art, it was conveniently located next to a range of theatrical outfitters and so good for the dressing up box, but more importantly it was where, with a cohort including John Galliano, I explored my attraction to a career in fashion.
Early days then, in my first job as fashion editor of i-D Magazine where not only did I feature said young designers in my pages, but with the encouragement of Terry Jones editor-in-chief, of said magazine, I got to do lots of filming with Japanese camera crews, (they loved i-D in Tokyo) thus accidentally embarking upon a TV career of sorts. It's 1984 and Channel 4 - a new and hip outlet for edgy broadcast, liked my style so I began a little network TV sideline. In those days a bowler hat with a condom was my chosen look. Well... we were in the grip of aids, condom awareness being key!
One of my very first 'stop and chat,' moments for BBC TV. I would have been asking where he got his marvellous vintage coat. I'm not so sure about my own look 30 years on with borrowed Donkey Jacket to brave the streets of Solihull or some such cold and windy town. Freeman Hardy and Willis...now there's a blast from the past!
I was not your average TV presenter. I wonder still to this day how I got away with it. Rubber vests, leather chaps, Dr Martens and here a 'number 1,' from Andy's in Brixton - a barber we all went to for a regular shave, might not be so readily acceptable on today's mainstream screens. Nice jacket from Josh Bonner...I still have it...I still love it!
Of course I got the bug for it, and this show hosted by Magenta Divine was the perfect excuse to promote my designer friends at the time...I am wearing creative salvage by Christopher Nemeth, one of the early recycling innovators. this jacket was made from old postal sacks.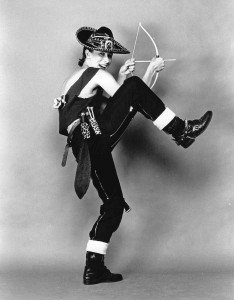 Everyone loves this picture taken by Steve Johnstone of PINK PUNK Book fame. At i-D Magazine every day was a chance to dress up. Westwood-McClaren bondage strides was 'normcore,' for me. Most recent sighting of this will be Elle's October 2014 Catwalk review of the old days.
A Nick Knight photo shoot and Simon Foxton doing the styling...Yes I was happy to shave off all my hair for ART. I'm actually lying on a Space Hopper there. I'm a happy dreamer.
From underground beginnings to massive huge overground runnings! Suddenly we have hundreds of thousands queuing up for the Clothes Show Live...Couldn't have anticipated I would be still doing it decades later!
An unexpected advantage was the opportunity to spout off about feminism to very large and interested audiences of young women. The Clothes Show Magazine was my own personal monthly journal.
Every year the Clothes Show would do a Christmas Special - it went out to millions. On one particular year, I got to play the role of a lifetime as the ugly sister in a Cinderella Christmas Panto, which was broadcast via the BBC to millions. I did it in quite simply the most sumptuous outfits made by students at London College of Fashion. That's Meryl Streep next to me - she's good isn't she!
I'm smiling as you do when you feel you can't go on from lack of sleep. 1993 was mostly about sleep deprivation. This one was for single working mothers everywhere.
Clothes Show became the reviewer's choice for the Festive Period. our Clothes Show Live, (Live Broadcast and all that it entailed) was not to be missed.
Of course I thought nothing of exploiting my children to raise money and awareness for a good cause. Amanda Wakeley and I launched Fashion Targets in 1996 as co-chairs. I'm very proud of the campaigns continued success.
Any excuse to dress up and I'm there. This shoot involved mostly tailoring and power dressing. The girly party dresses were rather neglected on this occasion.
3 seasons with UK TV Style - the Clothes Show changed to accommodate new viewing tastes and was fun all over again. Here's Brendan Courtney, Louise Redknapp and I finding something hilarious.
Teaming up with Cosmo to promote confidence and equality. Nothing wrong with a bit of activism.
The chance to meet garment workers at People Tree Fair trade compound was life enhancing and stark contrast to the meetings I'd had days before with survivors of the collapsed Rana Plaza factory.
And turns out that activism is not such a dirty word as I collect a very unexpected MBE for services to positive body image and diversity in fashion.