Education
I have worked in education for over 30 years as a Visiting Lecturer, External Assessor and Course Validator. Much of my work has been in London in Colleges like Central St Martins, London College of Fashion and Royal College of Art. As of February 2016, I'm delighted to hold a Professorial post at Kingston University.
My recommendation for a Centre for Sustainable Fashion was taken up by the London College of Fashion in 2005 and my Diversity NOW! Lectures conceived for All Walks Beyond the Catwalk to promote body image politicisation and give stealth feminism a broader reach have helped change the curriculums of 7 colleges. In 2014 I visited 25 colleges in the UK from Edinburgh to Southampton and one in Canada. We launched the Edinburgh College of Art/All Walks Centre of Diversity. Director Mal Burkinshaw Head of Womenswear at Edinburgh remains a constant inspiration for his innovative process.
I've collected some honorary degrees, which has made my elderly parents proud and I've had the chance to pose in gowns and cloaks that remind me of medieval costume. That's been especially nice!
My latest post as Professor of Diversity at Kingston University has given me to the chance to work closely with young creatives on issues of ethical process pertaining to identity and self esteem. Kingston is the 2rd highest ranking fashion college in the world so I am delighted to take up this position.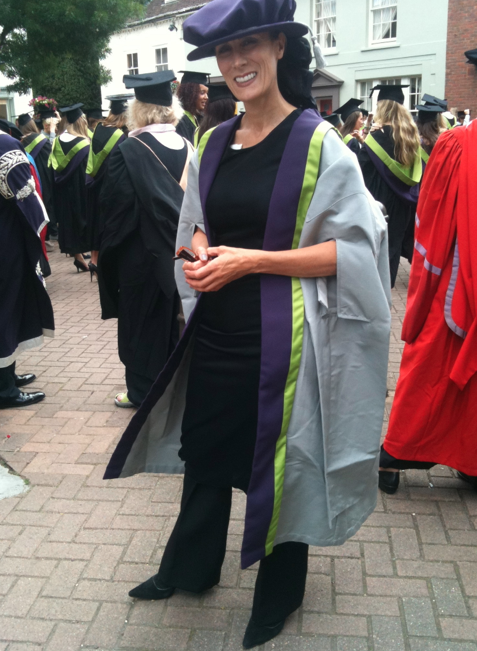 Educational work and posts have provided me with some of the most fulfilling ways to spend my day and easily many of the most heartwarming moments!
Honorary Doctorate from Kingston University.
Honorary Fellow at the Arts University College of Bournemouth
Visiting Fellow at London College of Fashion.
Ambassador for the London College of Fashion's Centre of Sustainability.
Educational Director for the UK's premier fashion consumer-show: Clothes Show Live.
Stop Press
I've completed my Msc in Applied Psychology in Fashion at London College of Fashion. My research and findings have been very well received and I'm currently working on an academic book treatment to broadcast the results and empower the next generation of young creatives to become disruptive fashion lovers!