A Simple Lesson
It was the wedding of the year and I had been researching for 24 hours solid. Reports of who was making the dress were changing by the hour. The statement that Meghan Markle would make at midday on May 19th was key to get an angle on.
Designer Sadie Clayton and I (above) were at the offices of CNN Style on that very day to discuss the design and interpret that statement...oh and drink lots of coffee as we were both up rather early.
I was hoping the dress would be designed by an outsider. The rumours that it would be Ralph and Russo even David Emmanuel did not please me - only because I rather fancied the idea of a newer, emerging name to benefit from the attention.
Designer brands that have been worn by royals receive a huge boost in sales and traffic to their sites. After Meghan wore the Strathberry bag, the Scottish brand sold out of the bag in 11 minutes and their website traffic was increased by 5000 percent. It's estimated that royal endorsement to British brands is worth £200m to sales figures.
So would she pick a designer of colour? How about Osman Yousefzada, or Ashish? I'm thrilled to say times are changing in the fashion world. And as the old guard gives way to the new and Louis Vuitton welcomes Virgil Abloh to the menswear helm, we can celebrate a diversity beginning.
And there is so much to talk about. As a biracial bride and the first woman of colour to enter the palace, Meghan Markle is also an educated, independent feminist. What will she do with this power?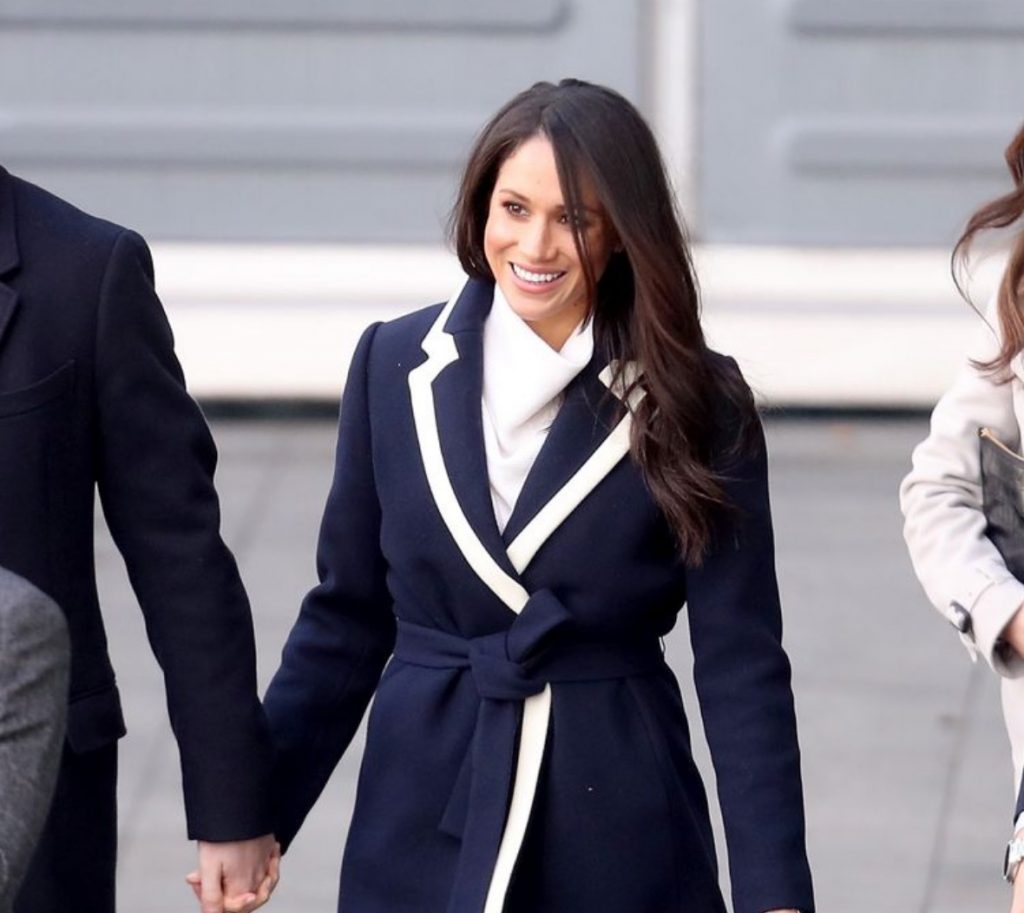 Back to the seemingly superficial world of clothes for an indication then. Well she has already flouted the dress code protocol wearing bare legs instead of hosiery and I loved the cheeky white trim to her J Crew coat in honour of the Suffragette centenary. This is a woman of substance so what would her dress tell us about her that might confirm her feisty girl-power stance?
At first glance almost nothing. We waited for the press release...where was it? Givenchy you say? Not even a mention of them in the run up...but the agenda unfolded with tenacity and subtlety. It was by a female designer and the first woman to hold the head design post in Givenchy. Clare Waight-Keller had created a super simple a-line skirt and scooped neck bodice in bonded satin which seemed to say you can't define me, don't make assumptions about me. I can't fib at this stage - I was underwhelmed by the lack of detail. But it wasn't until the gorgeous story of the veil unfolded that we got it.
Silver embroidery around the hemline of individual flora of each of the 53 Commonwealth Nations facilitated an embodiment of inclusivity and I had a beautiful moment right there. A message - about a message. We can all see it when we look...this woman will stand for everyone, for all of us coming together, but she will use finesse and subtlety. If she felt a need to reassure those resistant to change...she did it with style because it was all in the dress. I hope I had time to put that in the filmed report; these filmed things are a massive scramble to publish. But if not I'm telling it to you.
And here's to a happy ever after for us all!