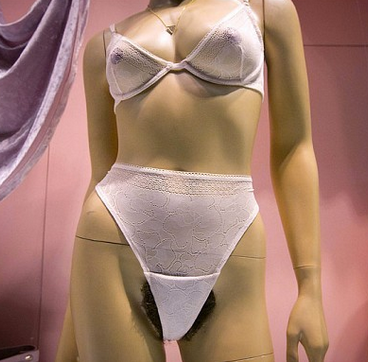 Bush Mannequins ain't Feminism.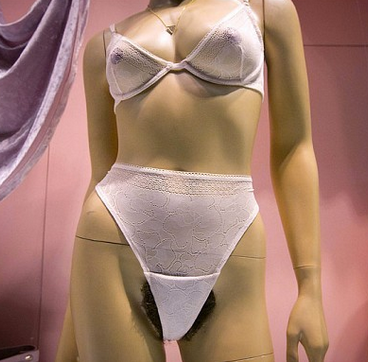 NB This piece was published in i-D Online January 2014 but removed one month later. The featured brand is an advertiser.
The problem with fashion's latest objectification of women through the eyes of Dov Charney, American Apparel's CEO, is that like Oliviero Toscani's more considered composition for Benetton, some years back, in which a hospitalised man lays dying from AIDS, distraught family at his bedside, it has nothing whatsoever to do with clothes.
Call me picky but a naked mannequin clad in a slash of translucent mesh, does not a fashion statement make even if there is an attempt to cash in on trending narratives around whether the female pubis should remain bald and intentionally bare or is better framed nestling from within in its natural hair-habitat. Increasingly fashion has strayed into new territories to ramp up its offer and taste boundaries previously observed by more elegant practitioners, has, in a desperate pursuit to create attention-seeking marketing or advertising strikes, been demarcated.
In the current climate therefore, a woman's body is fair game for all manner of gender-designated offensives, regularly served up naked and exposed – surely the antithesis of a good clothing statement aimed at women? Or recently dead or contemplating death – let's talk about what that really tells us another time.
But over to you ladies, so much has been written about vaginal appearance recently that we're all up to speed on the pros and cons of shaving down there. For those still pondering, here's my take... Sex worker fannies in porn films are all bare so that viewers can see the money shot. Porn is sport, with the 'player' ready to make a penetrative strike at the goal. It's a hole in one that can only be enjoyed, with a clear view of the action. To have pubic hair in the way would be... to spell it out, like kicking the ball into the net obscured by overgrown grasses and out of control foliage. There are reasons the grounds man keeps the grass so short you know!
With 24 hour porn having normalised penis in vagina heroics (without any body contact elsewhere), when your average Roy the Rover dons his Arsenal shirt and nips down the pub to score, a clear view of the penalty area may well be on his mind! And who can blame him? Repeat action replays on two of his frequently watched channels – sport and porn, may have given him to believe that all goal shots look like that.
But women have a shed-load of better things to do with their time than faff around with a bic razor or worse, book themselves into a beauty-factory for a spot of intimate bush topiary at the hands of a complete stranger, working long hours on a minimum wage or less. Whether or not to retain public hair for dignity and comfort is not a debate any sane women needs to have thanks.
Itchy regrowth and childlike genitalia are some of the undesirable results; along with the nagging suspicion that any man who wants to have sex with a woman who looks like a child from the waist down, is, well... EXTREMELY DODGY.
But wait, feminist politics are supported by the man who delivers campaign after campaign of pouty undressed teenagers and pubescent girls with legs wide open and arse-on-show shots. This middle-aged, bespectacled, casualwear manufacturer and self-appointed expert on young women's genitals has sanctioned pubic-hair as this season's must have fashion accessory.
It's a transparent demonstration of a misplaced agenda or simply another own-own goal from a brand that has, at the heart of its remit, a need to objectify and caricature the very same women who line the pockets of its CEO.
Just as porn is not about sex, but sport and dominating the opponent, fashion in the hands of un-evolved creatives highlights the losers loud and clear.
Ends.