Archive
Fun to roll back the years and create a mood board of the life and times of Ms. C.D.Franklin
Here's 'young Caryn,' as she began an accidental career in image and clothing. Others were just plain sceptical... at Feltham Comprehensive my year 9 school report (that's 3rd year senior school in old money) said...
" being the most fashionable person in the school will not get Caryn a good job,"
Eat your words people.
After graduating from Kingston School of Art as a graphic designer, where I mis-spent most of my time in the fashion department with my mates John Richmond and Helen Storey (there was no fashion media course in those days), I  decided upon a 'post grad,' at St Martin's School of Art.
It was conveniently located next to a range of theatrical outfitters and so good for the dressing up box, but more importantly it was where, with a cohort including John Galliano, I explored my attraction to a career in fashion and even more importantly began an interest in identity politics that would last a life time.
Early days then, in my first job as fashion editor of i-D Magazine where not only did I feature said young designers in my pages, but with the encouragement of Terry Jones editor-in-chief, of i-D, I got to do lots of filming with Japanese camera crews, (they loved i-D in Tokyo).
Thus accidentally embarking upon a TV career of sorts myself. Soon it's 1984 and Channel 4 (a newly launched and hip outlet for edgy broadcast) liked my style so I began a little network TV sideline. In those days a bowler hat with a condom was my chosen look. Well... we were in the grip of aids with safe-sex awareness being key!
This is one of my very first 'stop and chat,' moments for BBC TV in 1986. I would have been asking where he got his marvellous vintage coat. I'm not so sure about my own look over 30 years on, with borrowed Donkey jacket to brave the streets of Solihull or some such cold and windy town. Freeman Hardy and Willis...now there's a blast from the past!
And here I am (above) using my new found status to appear in the Radio Times with an AIDS fund raising T-shirt by Fashion Cares this was also one of my early campaigning projects. No point wasting an opportunity to speak without opening my mouth...actually that's been my motto ever since. For two mad years then I would present regularly on both the BBC Clothes show and fashion edit i-D Magazine. Backwards and forwards between street style and mainstream corporate culture was like talking two difference languages sometimes!
I was not your average TV presenter as you can see from above. I wonder still to this day how I got away with it. Rubber vests, leather chaps, Dr Martens and here a 'number 1,' from Andy's in Brixton - a barber we all went to for a regular shave...this might not be so readily acceptable on today's mainstream screens. I was also very non-compliant shall we say?
Nice jacket from Josh Bonner...I still have it...I still love it!
Of course I got the bug for it, and guested on other people's shows also. This show (Juice) hosted by Magenta Divine was the perfect excuse to promote my designer friends at the time...I am wearing creative salvage by Christopher Nemeth, one of the early recycling innovators. This jacket was made from old postal sacks.
Everyone loves this picture taken by Steve Johnstone of PINK PUNK Book fame. At i-D Magazine every day was a chance to dress up. Westwood-McClaren personal collection bondage strides was 'normcore,' for me. Most recent sighting of this pic will be Elle's October 2014 Catwalk review of the old days.
A Nick Knight photo shoot and Simon Foxton doing the styling...Yes I was happy to shave off all my hair for ART. I'm actually lying on a Space Hopper there. I'm a happy dreamer.
A brief press picture for a foreign magazine who popped in to interview me about street style.
Of course I thought nothing of interviewing my friends on TV. Everyone loved learning about the fashion industry and the creatives within it. Here's Leigh Bowery and I discussing face masks in the Harrods tea room - like you do!
I was never comfortable having my picture taken for Clothes Show press shots. LOL does it show? This is a top jacket by the man of the moment Stephen Linard but that didn't make me feel any less awkward.
I warmed up a bit though - here's me with the winner of a Dr Marten shoe competition.
From underground beginnings to massive huge overground runnings! Suddenly we have hundreds of thousands queuing up for the Clothes Show Live, launched in 1989 by Jeff and the BBC. I couldn't have anticipated I would be still doing it decades later though until 2016 in fact! I'm sharing the space with my co-presenter Jeff Banks. And I learned to have my picture taken. Smile please!
An unexpected advantage was the opportunity to spout off about feminism to very large and interested audiences of young women. The Clothes Show Magazine felt like my own personal monthly journal. Jacket by John Richmond, trousers James Logerfo, dayglo trainers NIKE it being the year of De La Soul or thereabouts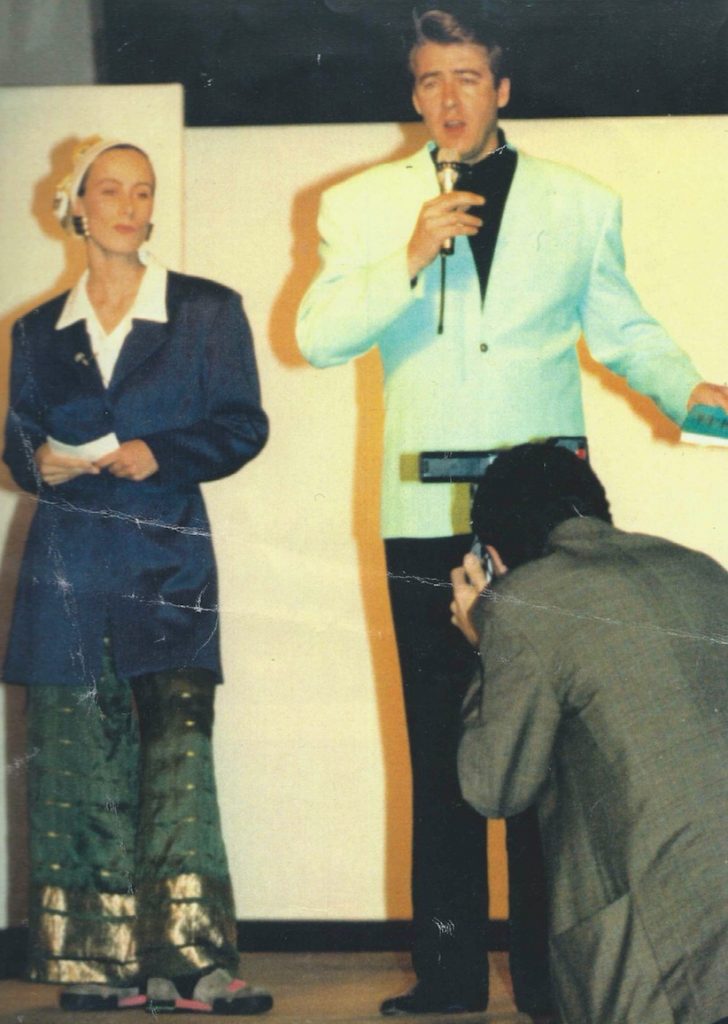 And here I am giving this 'top look,' a second outing for a show Wossy and I hosted in Brighton in 1990 . I shared the pic with him recently and he was able to date it immediately by his Mugler jacket! Me...I wish I still had those James Logerfo trousers.
Loving myself in more De La Soul homage. I bought this fabric from a roadside market during a visit to Gambia. It was a turban, a sarong and finally a much loved cushion cover.
Clothes Show became the reviewer's choice for the Festive Period. Our Clothes Show Live, (Live Broadcast and all that it entailed) was not to be missed.
That's because every year the Clothes Show would do a Christmas Special - it went out to millions. One particular season, I got to play the role of a lifetime as the ugly sister in a Cinderella Christmas Panto.
I did it in quite simply the most sumptuous outfits made by students at London College of Fashion. That's Meryl Streep next to me - she's good isn't she!
I'm smiling as you do when you feel you can't go on from lack of sleep. 1993 was mostly about sleep deprivation. This one was for single working mothers everywhere.
Of course I thought nothing of exploiting my children to raise money and awareness for a good cause. Amanda Wakeley and I launched Fashion Targets in 1996 as co-chairs. I'm very proud of the campaign's continued success.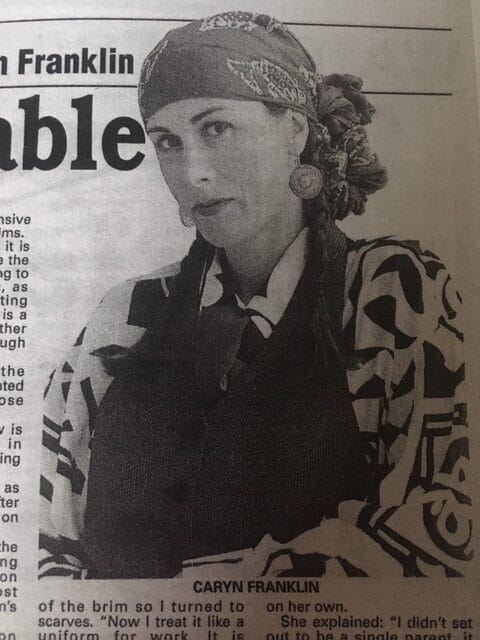 As you can see I still like a headscarf. This interview is all about my penchant for a bit of fabric headwrap.
Captions in the Radio Times would get witty too.
This was my second book. a happy experience because of the great women at Pandora Books. Thank you Belinda Budge.
Any excuse to dress up and I'm there. This shoot involved mostly tailoring and power dressing. The girly party dresses were neglected on this occasion.
3 seasons with UK TV Style - the Clothes Show changed to accommodate new viewing tastes and was fun all over again. Here's Brendan Courtney, Louise Redknapp and I finding something hilarious.
A delicious Iona Crawford dress and some well dressed friends and I pose outside the ICA to celebrate Scottish Textiles.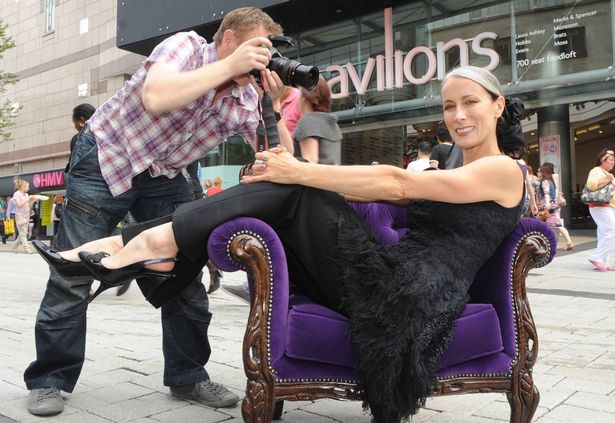 I'm making it look like I do this kind of thing everyday...but really...err...
It's 2009 and linking up with other fashion activists I co-found All Walks Beyond the Catwalk This idea would become an all consuming voluntary and unwaged campaign for media to present a broader range of body and beauty ideals in size, skin - tone and age. Read the full story in the link. Wardrobe surgery mens jacket by Junky Styling.
Teaming up with Cosmo magazine to promote confidence and equality. Nothing wrong with a bit of general promotion of a good concept.
25 years working at the NEC every Christmas. The Clothes Show Live was a roaring success and although I have always done my make-up I agreed to have a professional put it on. Can't put my finger on why I look like Gloria Swanson in Sunset Boulevard except to say that false eyelashes - a first - may have contributed.
The Fashion Revolution campaign to kick off who made my clothes.
The chance to meet garment workers at People Tree Fair trade compound was life enhancing and stark contrast to the meetings I'd had days before with survivors of the collapsed Rana Plaza factory. Thanks Safia Minney MBE for taking me to Bangladesh.
And turns out that activism is not such a dirty word as I collect a very unexpected MBE for services to positive body image and diversity in fashion.
A campaign to get rid of the Sun's page three sexualised and objectifying imagery of women which I happily joined. It was successful and thanks to Nick Knight who stepped in to take this picture for me on my iPhone after a SHOW Studio gig. This image has class no?
I'm partial to a bit of monochrome as you will have noticed and this amazing real hair dress by Ada Zanditon was ethically produced as was the oh so stylish coat she made in the picture above of me with the family. The image was never used in the feature it was shot for so here I am giving it an outing on my blog! Not wasted then.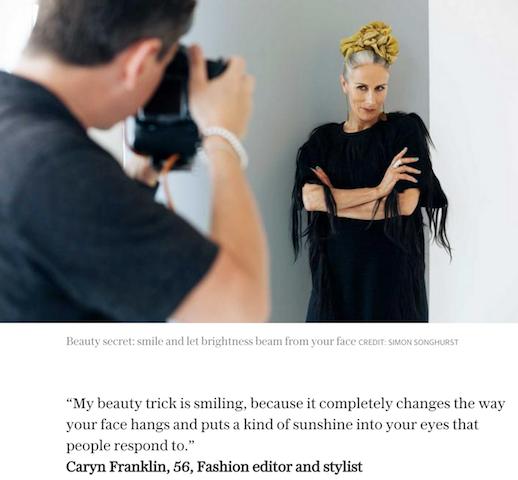 Yup still stand by this!
The moment you realise you are a Guinness World Record holder...thanks to Wayne Hemmingway for staging the 'most models on a catwalk' experience for this fashion show compere! held at the Liverpool Docks
I ALWAYS enjoy talking to graduates...did I say I love my job?
Yes decades later still doing the Clothes Show Live, now renamed to British Style Collective. This picture just tickled me because it was displayed in a lift...and its not everyday you get in the lift with yourself unexpectedly!
Having supported an older models on the catwalk initiative, I find myself helping out as a model at Graduate Fashion Week 2017 ! The designs here are all made from recycled denim by a student from Kingston School of Art where I am visiting professor of diverse selfhood.
Designer Sadie Clayton and I at CNN Style. We are commentating live on the Royal Wedding of Megan Markle to Prince Harry.
Gareth Pugh has often said he was inspired by the Clothes Show as a young creative. He found Jeff and I at a Graduate Fashion Week event for a quick threesome.
This is the way you look when the designer has told you to take off ALL YOUR UNDERWEAR so you don't spoil the line of the dress. A completely unexpected London Fashion Week modelling moment for Teatum Jones. Autumn/Winter 2018. It's tricky...I've been spouting off about the need for diverse models on the catwalk and now...I've got to put my money where my mouth is.
Another modelling moment this time for M&S. Pants on!
A promotional image for the PURE: power of one campaign.
So it's interesting to ponder whether signing up to Extinction Rebellion in June 2019 and saying no to new for 52 now puts me directly in conflict with many of the big brands. They are not my direct employers, however through philanthropic activity these brands support initiatives I am involved in like Graduate Fashion Week for instance. Happy to work with them in this way... and I will trust the feeling is mutual as we link arms for the common good.
And here we are 2020 upon us. 38 years in this industry and counting. I find myself being more vocal and  (if it's possible) more strident about the changes my industry can and must make. Thank you to photographer Sarah Creswell for a wonderful portrait session.  There were lots of great press images the sort of happy smiley things that picture editors like and I had great fun. But I think this one is me also:  Here I am staying quiet and pondering the next move!