Cultural appropriation
If Stella McCartney had been exposed to a range of diverse perspectives during the creation of her spring/summer design 2018, she would have avoided an awkward statement of cultural appropriation. As white people AND creatives we have an obligation to investigate our privilege and our ignorance.
Using the creativity of others without credit or visual representation is uncool, but when those others have been marginalised, oppressed even brutalised by white western behaviour, cultural appropriation is deeply insulting, wounding and unethical. Insider feature here
The Ankara fabric for this dress above, worn by mostly white models in the McCartney show, has strong cultural and societal connection with the people of West Africa a region devastated by European slave trading.
I am increasingly asked about why cultural appropriation is is such a sensitive issue in my lectures....by white creatives.
So here it is for those of you looking to unpick your cultural illiteracy with thanks the McCord Museum in Quebec, where, last summer 2017, I learned the story the First People of Canada, one of many stories of injustice and cruelty around the world.
As these beautiful garments show, the First People of Canada were spiritual and deeply connected to the land using their crafts and clothing to celebrate historical and artistic narratives around identity and cultural pride.
The Indian Act of 1876 however gave the federal government exclusive authority over all aspects of aboriginal people's lives.
This included the power to forbid expression of their culture and practice their traditions.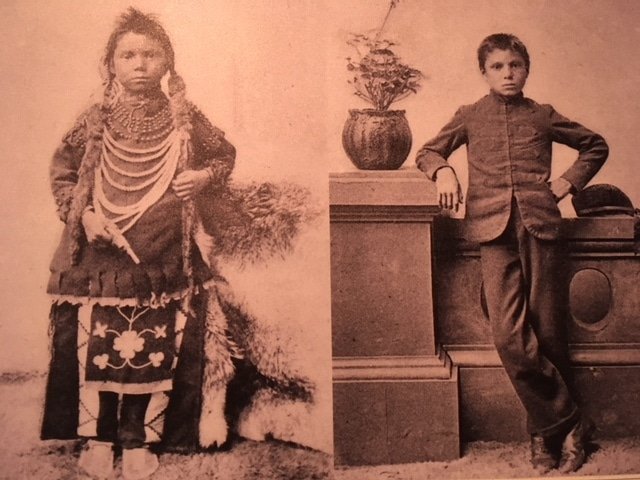 Families had their young children forcibly removed and 'repatriated,' amongst white families.
Everything these children knew, from their parent's love and family security, to their way of life was stripped away and denigrated as they received new names and identities.
Forbidden to speak their own language, or seek comfort from their culture, many suffered extreme physical and emotional abuse as well as malnutrition, disease.
In one generation the future of a community was wiped out, leaving despair and decimation.
Dear white designers ...it's not yours to steal.
It's not yours to exploit. Read PageSix feature here 
Or misrepresent, misuse and disrespect. There has been far, far too much of that already.
Thanks to McCord Museum Rue Sherbrooke Quebec, Montreal for allowing me to take these images and share this story with you.
________________________________________________
News Flash: As I was writing this I clicked on to Instagram to see the words of Professor Ben Barry at Ryerson University, Toronto.
"Mentoring Indigenous Graduate Students today. We need to model and make some big structural changes as faculty but there are also many individual things we can do: incorporating Indigenous writers and artists into our courses, doing the work to learn about continued settler colonialism and cultural resurgence, being mindful when we teach about injustices and stereotypes that these are still violent realities for Indigenous students, recognising the importance of kinship and family for many Indigenous students, honouring lived experiences and community work as knowledge, joyfully bragging about the work of our Indigenous students ... and so much more."
Hope for progress.