Humans in their Finery
Last London Fashion Week took a very interesting turn (identity wise!)
With my previous 'trends report,' persona now shed, I can indulge my preference for human connections during London Fashion Week.
Which is good because meeting new people and learning about their relationship to clothes is my favourite thing to do. Humans in their finery may be seem to be all about identity and inclusivity but this is a sustainability issue too. We need diverse perspectives and voices to come together for best practice.
As you know I'm a believer in running 'emotional' and 'materials and resourcing,' sustainability agendas all together.
So, as the fashion world gears up for the this season's spring 2020 womenswear event starting Feb 14th, I'm taking stock of September 2019's highlights.
1.Thank you Mzz Kimberley Tatum (above) for connecting me to your LIFE fashion show (as a steering committee member) held at the Mayor's Chambers, Southbank in support of Clinic Q fundraising and trans-awareness.
The evening, featuring some of my favourite Instagram follows: Non-binary human: Jamie Windust (above), Transman of the moment - Kenny Ethan Jones (see below) and Transwoman Ms Sahhara, to name but a few, was full of joy and excitement.
The room, packed for a display that was about so much more than 'garment innovation,' showcased humans presenting themselves in all their finery on the catwalk; inviting us to learn more about being trans-allies.
Guys it was a thrill to applaud you all and to hear from both Michelle Ross, founder and director of Clinic Q: The only transgender sexual health clinic in the UK, and celebrated trans-author Juno Roche (who is an ambassador for Clinic Q).
We learned about the vital specialist therapeutic and medical services provided for Trans People, which continue to require fundraising. Clinic Q may be world leaders based in Soho, and collaborating internationally with other health providers to replicate their successful methods and protocol, but services cannot cover client need as demand increases.
The trans community has worked ceaselessly to educate us all about what it is to be human and, courtesy of online conversations I'm tapping into, my vocabulary and knowledge has grown. As a result I am grateful for a life in fashion that has given me privileged insights into ourselves and the power of our clothes, to tell others who we have chosen to be.
The fact is, we are all emboldened by the frame and context we chose for ourselves and we ALL deserve to be seen in that chosen setting.
*       *       *       *       *
2. Non-binary, trans and LGBTQ models hit the conventional catwalk to model for the much-lauded new label: Art School. Founded by Eden Loweth, a graduate of Ravensbourne University London and partner Tom Barratt.
Having gained widespread praise for their genderless fashion approach, representing queer community and real bodies, this design-team produce their garments in both male and female sizes with clothes featuring notes on each of the pieces to flag up which is best for a trans or non-binary body.
As Eden told me during a meeting at a Fashion Roundtable event devoted to diverse narratives, they are carving out new ground. Non-Binary Fashion Week doesn't exist (yet) so they currently show during Menswear Fashion Week but it takes a certain amount of emotional labour to educate generic press and conventional buyers.
"Everything we make, can be bought in menswear and womenswear sizes," they say, (these are their pronouns) explaining that that the clothes will feature notes on each of the pieces to flag up which is best for a trans or non-binary body.
There are other challenges too and retailers may know that the team won't work with stores that don't have non-gendered changing rooms.
These are the exciting shifts in identity narratives that will propel us all forward. I'm giving thanks here to all humans on the front line and as I continue to highlight these authentic voices.
*       *       *       *       *
Lucy London's presentation of Queer Fashion at the V&A Bethnal Green Museum of Childhood was another 'moment'.
This was a spectacular moment for paparazzi with attendees going way beyond conventional presentations we see at LFW. There were some AMAZING get-ups and that was just the audience rocking up in their civvies! Of course designers took it further as shown below.
More than 100 models of all sizes, sexualities, genders, and abilities, walked down the runway at the London Queer Fashion Show, to showcase of LGBT+ design talent worn by UK Black Pride's co-founder Lady Phyll, non-binary model Rain Dove, one of my favourite drag kings Adam All and the irrepressible Clara Holmes who rocks a wheelchair like no-one else.
And thank you for the education Michael Nanton-Knight Director of Gayle Europe Beer and Cider (below). In order for queer agendas to flourish there has to be sponsorship and funding.
And this is can be mutually beneficial when companies who serve the communities they sponsor, bring much needed authenticity and empathy. Gayles are at the forefront of queer beer product as Australia's first and only independently owned gay beer and cider company.
Rock on.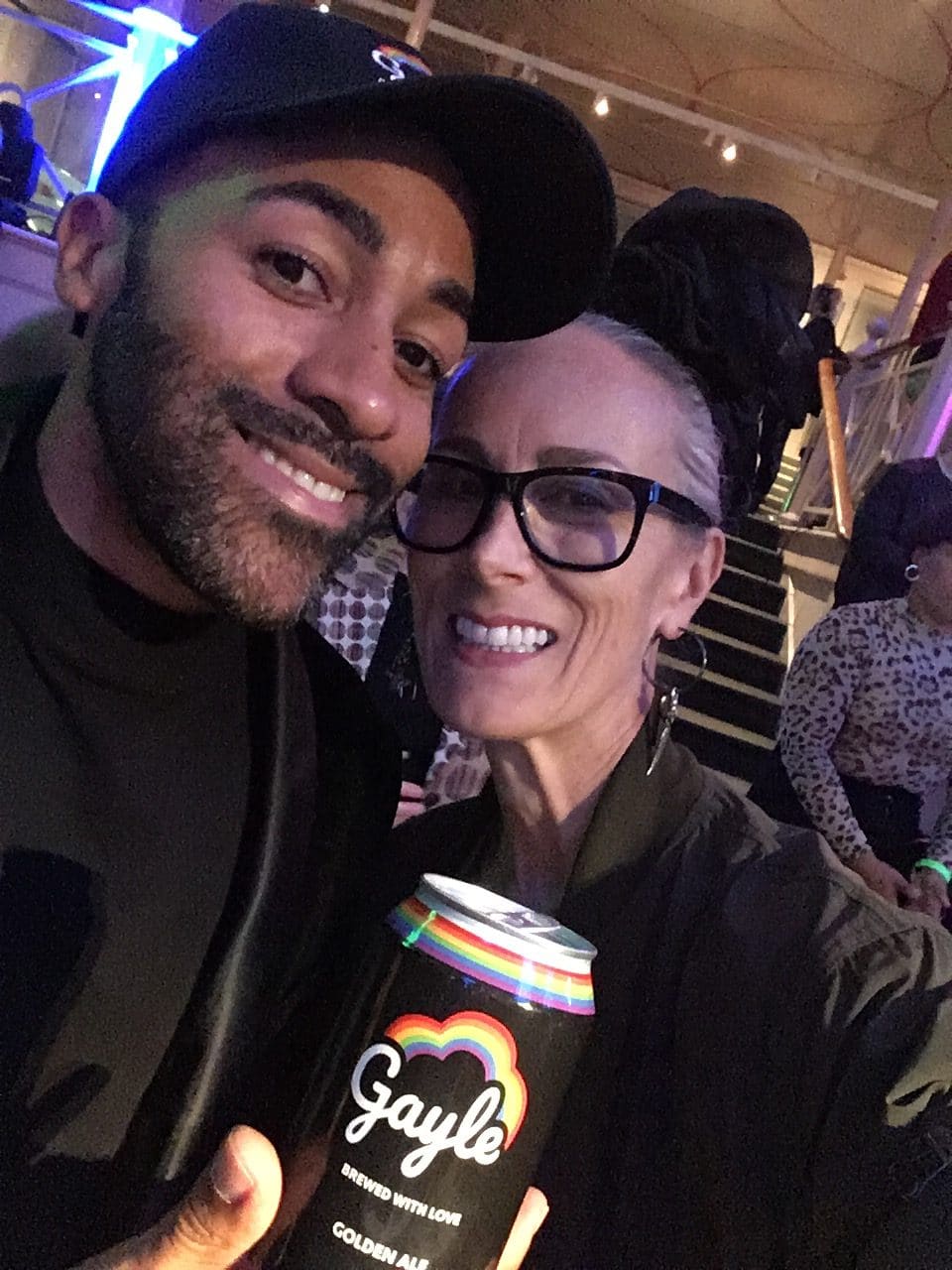 Reader if some of my identity phrasing is incorrect please feel free to correct me via the gram @franklinonfashion
Credits - please email me with photographer or designer details to be added if you were one of the people who took, or designed for, these photographs.