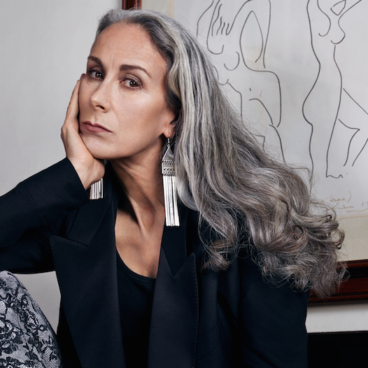 Menopause: Activism in the moment
What does a fashion activist talk about?
Err not always body image issues and the fashion world's disinterest in ordinary women's shapes.
Today... it is middle-aged hormonal turbulence and menopause.  Yup that's the ticket...the cultural taboo that passes for silence between mothers and daughters, work colleagues and friends.
When I wrote the recent piece Menopause the Truth AND the Surprise Ending encouraging women experiencing the emotional chaos of menopause to hold steady and focus on the hidden gifts, I was amazed at the twitter response. I cannot recall such a time of enthusiastic response, except when on the BBC... BD (Before Digital) when we were inundated with calls (26,000 to be exact) after a feature on the launch of George Davies' Next Directory.
In my feature, I spoke briefly about fashion, beauty and image but I want to underline the importance of clothes and beauty products here. I'm not anti fashion or creams and unguents, but bring them into your life on your terms, not because you are straining under the oppressive marketing weight of the cultural drive to hold on to youth. That said I defend any woman's right to spend money on herself however she wishes.
ANYWAY so many women have whooped and danced as a selection of TINY twitter comments show (below) so as an extra feature (think they say that on DVDs) here is a small selection of my favourite pick me ups. I've also included a link to a previous blog here listing top items for looking good when you feel bad...and we all know those days!
Ariane Poole Concealer from Ariane Poole. OMG you will never choose another after this. I do TV and photoshoots in just concealer, it evens out my complexion beautifully.
Liz Earl Skin Polish from her naturally active range. For the smoothest skin use the organic rosemary and face scrub. They say you should only use scrubs once per week but I use them much more frequently.
United Nude Shoes that are comfortable, directional and a guaranteed talking point.
Joy Everly Jewellery. It's a nice feeling to buy yourself jewellery that say's something about your rank and status. I'm not talking about expensive stones - I don't own anything like that. NOPE something individual. The bee collection and entomology collection is my fave but there are many more traditional styles to choose from.
People Tree Fair Trade clothes
White Hot Hair The products are perfect for grey hair and for anyone thinking of loosing the colour and all the tedious covering of roots - the models on the site will inspire you too even if you are not even thinking about going grey.