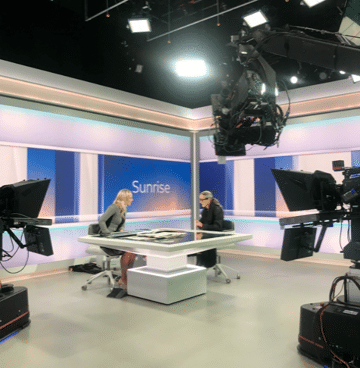 Party Time
It's always fun to make a contribution to the work of Oxfam. They are one of my oldest charity collaborations. And since I'm a big fan of pre-loved clothing, their latest request was close to my heart.
In the run up to Christmas we are all thinking about party looks. I began the day at SKY Studios and then took to the radio to discuss a New Year's Resolution I hoped I could suggest for partywear shoppers everywhere...that they would never throw away another garment again. Yup its true people still do this - put clothes in the rubbish bin that is.
In fact, Oxfam's research revealed that during the party season we will spend £3.5b on new outfits. 8m of these clothes will only be worn once, then consigned to the back of the wardrobe, or even the bin, or if you are thinking straight...the second hand shop.
But let's say you had the best time last night at the office Christmas party; so good you were doing the hustle, the funky chicken and the electric slide... all night. You ripped your dress. No you trashed it, and now think it only fit for landfill.
New knowledge alert... Even if the clothing doesn't look like clothing anymore. Oxfam will take it and process it in their Wastesaver Warehouse in Yorkshire preventing 7200 tonnes of landfill by turning discarded clothes into rags for insulation.
But wait, can we go one better? What if we didn't spend our cash in one of Philip Green's many stores? What if we bought a dress in one of the 610 Oxfam stores nationwide? Or went online to chose from over 100,000 garments on their site
£10.00 spent with Oxfam will provide 10 people living in poverty with clean water. Radio hosts were right behind this initiative and we spent longer than the normal few minutes allotted to discuss it. In all I did 15 or so radio interviews and one national broadcast to get the message over. If I made a small difference to perceptions of how clothing should be treated apre-party, then my work for 2018 is done and the festive celebrations can begin. Now where's my mulled wine?