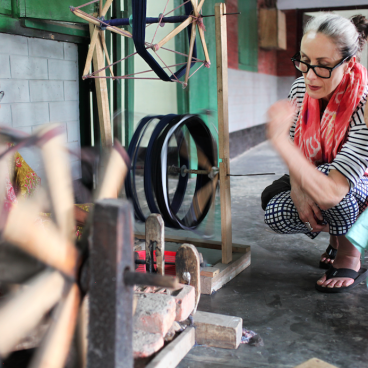 Self-Esteem from Worker to Wearer
Interviewing survivors from the collapsed Rana Plaza factory when I visited Dhaka in Bangladesh recently, I was utterly miserable to learn how unkindly workers were treated. Disgusted even. Many were convinced the factory would collapse on top of them for weeks before it happened. Cracks had begun to appear in the walls from a wrongly sited generator and they protested outside the building in the run up to the tragedy. They were always threatened with loss of a months wages. They always reluctantly made their way to their machines.
We trust brands we love (I'm not talking fast-fashion but high-street fashion) to pay workers a fair wage and keep them safe. What I now realise to my utter dismay is that if it doesn't say 'Fair Trade,' on the label, then you or I cannot be sure that  the person who made our clothes has been properly treated by the fashion system.
Long hours, escape exists that have been padlocked, beatings and intimidation, a minimum wage that does not support the most basic standard of living, this is a reality for many poor garment workers, most of whom are women.
I haven't been a fan of fast-turn-over trend for some time and I don't buy into vacuous fashion marketing messaging or product with built in obsolescence. Ada Zanditon, Junky Styling, Vintage and now People Tree (it was Safia Minney CEO of People Tree who accompanied me on the trip) have become my go-to labels. I still love The Loft in Covent Garden for samples though.
I wrote about my trip for Drapers to encourage independent stores to increase their Fair Trade offer. I had a chat with Breakfast TV presenters about the lack of compensation the relatives of the dead had received. Did you know Benetton and Gap both used the factory but one year on they have not yet paid into the compensation pot?
At the risk of being a gobby activist)...(not hard but how to do it in a stylish way?) I will be encouraging everyone I know to demand more information on their label from their favourite stores. To demand transparency around supply chains and ratio of profit margin and distribution to workers and shareholders and to question for themselves, whether there is such a thing as Fashion Kama - could we feel much much better if we were wearing clothes made by happy, valued and safe workers?
In a stark contrast to the defeat most of the garment workers in Dhaka seemed to project. It was wonderful to visit the fair trade production compound that supplies People Tree and meet women there. I loved the self-esteem they exuded.  The facilities available to villagers of Thanapara included a school to keep their children safe and during the day and educate them so brilliantly they could all speak english.....there were even programmes on domestic violence in outreach villages to give women and men mentoring and guidance to break centuries old traditions.
Change, progress and beautiful clothes... these are a few of my favourite things.