Real Stories
Easily the most enjoyable job this month has been the Dove Real Beauty trip to New York where I and  other women told their story of personal beauty and self belief.
My attitude to beauty is well documented. I love getting older, spending less time on my appearance and more time in my thoughts. I am a militant tribal-elder, body image activist and on the way to cronehood with joy!
With 'influencers' from scores of countries, I shared my ideas and activities as a Disruptive Fashion Lover and talked about the gains not the losses of ageing. Speaking to women from all over the world was fun...I used my new knowledge of psychology to bring in studies to support my opinions. I wish that I could have listened to other stories from a marvellously diverse group featuring....Ibitihaj Muhammad, Karen Walrond, Body Posi Panda's Megan Jayne Crabbe, Rebekah Marine and the lovely Daphne Selfe amongst others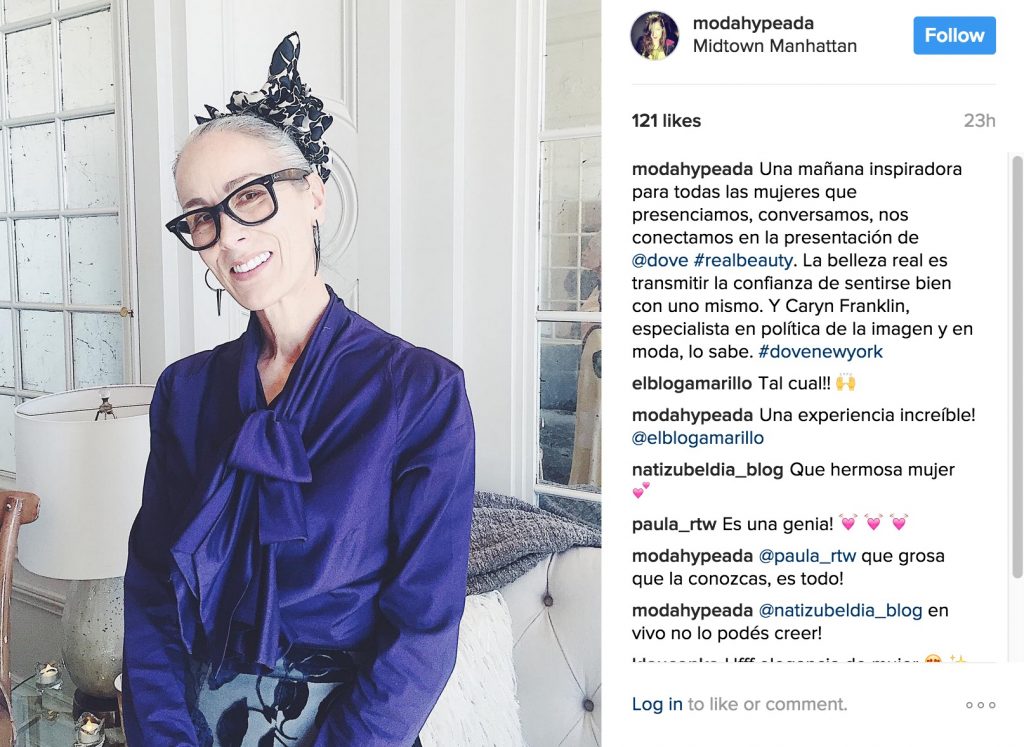 The talks took place in a marvellous town house and we were all divided into rooms or salons. Of course fashion choices were discussed along with the politics of beauty and as you can see here, I went classic! My signature headscarf and cool blues provided by Vivienne Westwood and Pearce Fionda sample garments are my go to comfort colours. Blue and pattern works for me. I bought them in a sample sale some while ago incase you want further details (and you often do!) I think I went down well but as I don't read Spanish I hope this review is flattering. I'll rely on you to let me down gently if not.
I met some brilliant women and was thrilled to link up with Dr Nancy Etcoff who along with Susie Orbach activated the Dove initiative to promote diverse body and beauty ideals in 2004. I'm currently reading her book and can recommend her excellent research into the biological and psychological aspects of appearance that have influenced our perceptions of beauty. Of course I got her to sign it!
Although our perceptions of beauty as Dr Nancy Etcoff points out are influenced by biological and evolutionary factors and  may not have changed in thousands of years... the current presentation of images presenting an unreal vision of femininity has reached obscene saturation levels and it is this that has affected our attitudes and motivations. Low self-esteem was what we were there to challenge. I discussed this task and how best to approach it with others at one of the many sumptuous meals I was invited to. I love my job...or have I already said that!
Speakers