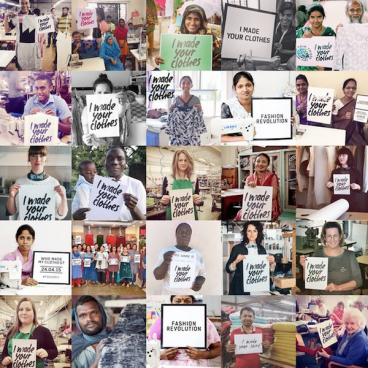 Slow Fashion
Writing for Safia Minney's new book Slow Fashion, I included an interesting psychology study by  Adam and Galinsky (2012) which allowed me to make all kinds of inferences around worker and wearer self-esteem.
Put simply the above study supports that what people wear has been shown to affect them psychologically. Those of us who believe that fashion culture has the power to influence personal well-being in many significant ways, see this study as rather interesting!
The book is soon to be published and I'm hosting the launch with Safia. Do come if you fancy... details below.
Hanging out round twitter as you do though I also noticed this amazing picture posted by the team at FASHION REVOLUTION. I've written about their work before as it is an initiative I whole heartedly support.
I love it that I can make this connection with the person who made my clothes and be reminded when I dress that workers and wearers are connected. I talked more about this in a recent blog after my visit to Bangladesh where I met survivors of the collapsed factory Rana Plaza.
Suffice to say...they made what we wear and deserve living wages, safety and RESPECT. It was my most retweeted post yesterday...this is surely the image we want to evoke for ourselves as we get dressed in the morning.
There are plenty of great women and men involved in making sure Fairness happens but I've posted a picture of my mate in appreciation because she is not only tireless in her drive to make it better for women and men involved in garment production but as one of the most successful FAIR TRADE entrepreneurs we have, she is a woman of substance having run PEOPLE TREE for many years.
If you simply can't wait and want to engage with the issues of Fair Trade AND Safia's work then come on down to the Lexi Cinema in Willesden this 16th February for an evening screening of of TRUE COST. She'll be there along with Guardian Journalist Lucy Siegle and Dilys Williams Director of the Centre of Sustainable Clothing.
True Cost Movie at the Lexi Cinema book here
https://youtu.be/OaGp5_Sfbss
https://youtu.be/OaGp5_Sfbss