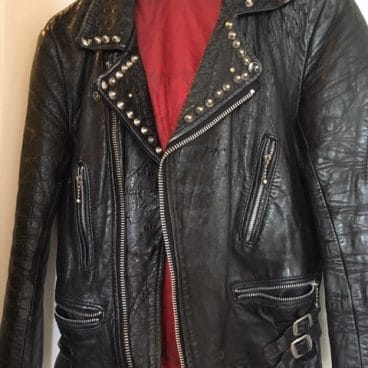 The Reunion
I  wore my studded leather jacket of over 35 years to the recording of Radio 4's The Reunion. I did it to get in the mood for talking about the 80s and because it's a top look, see above!
It was a subject of intrigue: What was written on the back? Dames is pure poison. And did I still wear it out? Yes of course! Sadly I was parted from it immediately as it was deemed too creaky for radio. Bruce Oldfield later followed suit when his jacket was found to be guilty of loud swishing noises. Practically down to our undergarments and with Wendy Dagworthy divested of her silver bangles we resumed.
Nostalgia and enjoyment of times we thought had long gone (memory wise) had us all in fits. Milliner Stephen Jones and I had similar recollections of the 80s coming from a Clubland and Streetstyle perspective all those years ago. It was a time of possibilities - something I have written about before. While Betty, Bruce and Wendy observed the struggle of running a design business, I enjoyed the account of their world and camaraderie, the fact that we are different parts of an exhilarating industry and then we got round to talking about the imposition of fashion critics and their opinions. Yup we commentators are irritating in that we have opinions... sometimes back then I might discuss the aesthetics of femininity and othertimes I would be critical of unempathic portrayals of womanhood. Standard stuff for this commentator but nothing that got me in trouble with my friends round the table that day.
I was always less concerned with critiquing design from a personal perspective, and more into portrayal and identity so possibly I was not relevant for many. Who can say? I volunteered a memory of Wayne Hemmingway taking me to task for a Red or Dead review in the 90s but I forgot about bumping into one enraged designer during a London Fashion Week many moons ago which I recount here.
I must have caught said creative off guard as his hissed at no one in particular on passing by, "One day I'm going to write a column for a paper and sit in the front row and you people (think he meant us journos) will show me what you can do. I will watch your catwalk show and then I will say that IT IS CACKA." By this time I was looking at his back. He exited with such malevolent disdain that I was relieved not to be responsible for offence. Handbags at dawn when he found the perpetrator. Ahhh happy days.
The Reunion on BBC Radio 4 will broadcast at 11:15 Sunday, 27 August and then will be repeated at 09:00 on Friday, 1 September.